Getting to Know Hue: James Moreland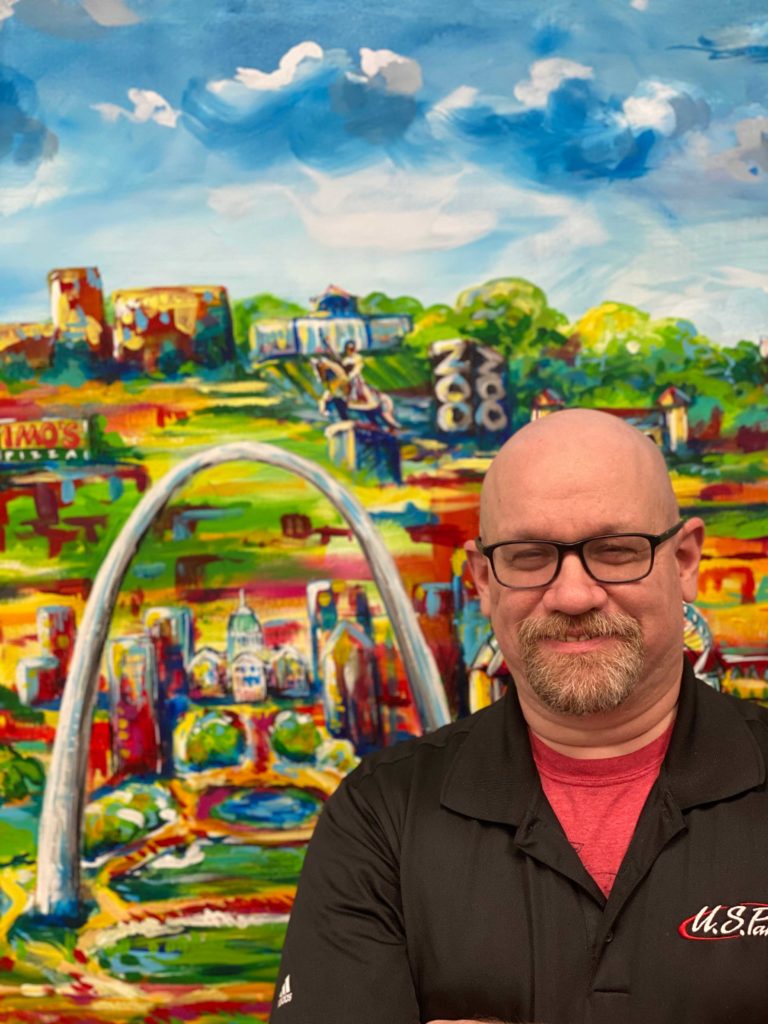 In our series Getting to Know Hue, we invite you to learn more about the people that contribute to the success of our company and family. This employee spotlight highlights James Moreland, U.S. Paint Lab Manager and Chemist. James has been an invaluable part of our team for over 25 years and would like to share an inside look into his career, team, and passion for paint.
1. How would you describe the laboratory department team?
We are a collection of individual characters with a drive to see how things work and how colorful we can make the world.
2. What does an average workday look like for you and your department?
That's the benefit of working in the lab; there is not an "average" workday. We find ourselves always changing and shifting with the priorities and projects. One day you will be running specification testing, another day matching colors for the auto industry, then spraying panels for testing, or working with designers to develop the new colors. It's always changing and never boring.
3. What are the main responsibilities of the laboratory department?
The lab's main responsibilities are to develop and test all new colors for our customers and to ensure our paint meets their requirements for application as well as color. We also work to develop new paint systems to meet our customers ever changing needs and requirements.
4. Can you explain what the weatherability instruments and "rock throwing" machines do?
The weatherability instruments we have are crucial in our customers specifications. They bombard our test panels with specific wavelengths of light to simulate outdoor exposure at a faster rate and incorporate moisture to simulate environmental aspects. The "rock throwing" machines are designed to simulate the road conditions our paints could go through and are used to show our durability.
5. Why is the laboratory department important for U.S. Paint customers?
The lab is not only constantly matching the new colors our customers are producing on their own, but we are also assisting them in the design to make sure they have access to the newest pigments and effects pigments on the market for unique colors. We are also responsible for continuous improvement to ensure they can meet every changing requirement.
6. What is your favorite part of your job?
My favorite part of the job is color development. There is nothing like seeing a color you helped develop on the road and being able to say I helped make that.
7. What has been one of your favorite projects?
It's hard to pick one, but I worked on my favorite color for a customer. It was using a new technology at the time with a drastic color shift, so it went from a pure cobalt blue on the face to transition through a violet into a deep red. It was years ago and it's still my favorite color even today.
8. What is something you would say to someone interested in joining the laboratory department team or U.S. Paint in general?
You'll never find yourself with a lack of something to do in the lab with its ever-changing environment and needs. I've found through the years that it's always kept my interest for the next thing to do.
9. What is your favorite part about working at U.S. Paint?
I've always felt respected and that I was given a chance to grow with the company, and I feel that everyone is given that opportunity.
10. What is a fun fact about yourself not related to U.S. Paint?
That I build costumes in my spare time. I have a Darth Maul, a set of Mandalorian Armor, and various other costumes that I've built and worn through the years.
11. Is there anything you'd like the people reading this spotlight to know?
I've found U.S. Paint to be a fun place to grow and I enjoy all of my coworkers. We might be separated in different groups for convenience but any time a hot project or emergency might arise, the whole lab and all the rest of the company doesn't hesitate to come together to get the job done.

U.S. Paint is honored to be named one of the St. Louis Post-Dispatch Top Workplaces. This is a great accomplishment and is a testament to the culture, values and daily efforts of the U.S. Paint staff and leadership teams. We're thrilled to have been included on the list, and thankful to our employees, who made this happen.